Most of the time families prefer that their aging relatives receive home care services rather institutional care.  We all have our own reasons for this but what matters is how our elderly loved one will live the 2nd half of life. Nowadays, most people have turned to home care services because it allows seniors to stay in their own homes longer and they feel a sense of independence.
Some important considerations regarding home care services include:
Quality of care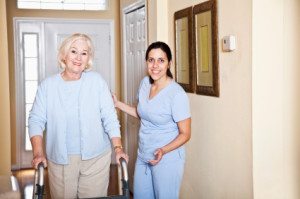 This is a major reason as to why people prefer the involvement of home care service agencies. While at home, seniors receive one-on-one attention, which would not happen in a nursing facility. Home care is the most comfortable and most desired place for our aging loved ones. Quality care is a huge factor when selecting a home care agency. Adult children of aging parents want to know that the caregivers in the home are doing the right thing at all times with regard to their aging loved one.
Family participation
Family participation is imperative for a successful home care experience. Adult children of aging parents must check in on their loved one, and must keep an open line of communication with home care agency staff.
Independence
Home care service gives the senior freedom to recover in both the security and comfort of his or her own home.  At home, the patient will receive maximum individual care to meet their specific needs. This is one of the major advantages that the home care service offers.
Freedom of choice
You will be at liberty to select your own home care service agency that suits your needs best. This will help you choose an agency that you know is affordable, has better care and is always ready to attend to your senior's needs when called upon.
Patient Rights
Patient rights and responsibilities are an important part of home care services. The home care service agency that you select will not only explain "patient rights" to you, but they will provide written documentation that helps you, as a family, understand how home care works, and how home care helps seniors who need a little extra help around the house.
Family Bonding
Home care services allow "daughters to be daughters" and "sons to be sons again", instead of always playing the role of caregivers. This allows families to feel less stress, less worry, and stick together in a more relaxed way.
These are just a few of the important aspects of home care services for seniors and families. What kind of issues are important for you and your aging loved ones?
For all of your home care services in Cherry Hill, NJ and the surrounding areas call and talk to us at Home to Stay Healthcare Solutions (856) 321-1500