Taking care of a home is a major responsibility. Especially for seniors that are dealing with physical restrictions or lack of energy, fulfilling this responsibility can become quite a hassle. You don't want your parents struggling to do the housekeeping but you also don't want them living in an uncomfortable or cluttered home. A home care companion can take on some of this responsibility so that you can rest assured the home is clean, functional, and safe.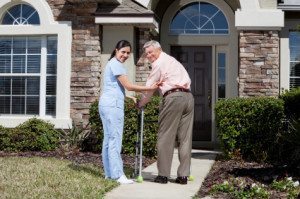 A home care agency isn't a cleaning service, but that doesn't mean that the companions aren't happy to jump in and help with some of the basic duties of keeping house. Some of the light housekeeping responsibilities that a care companion can take care of for you include:
• Dusting
• Vacuuming
• Changing the linens
• Laundry
• Dishes
• Ironing
• Basic tidying
Making sure that the home is clean and tidy is just another way that a home care companion keeps seniors happy and comfortable. It really is true that something as simple as clean sheets can make a major difference in how a person feels. When seniors just can't do these things for themselves a qualified companion can ease the challenge, without taking away a person's sense of privacy, freedom, or dignity.
If you know that light housekeeping is going to be an important aspect of your care companion's responsibilities it is important that you find the right agency. Discuss the specific needs your parents have in their home. Though most care companions will automatically take care of the things that they see around the house that need to be taken care of, it is helpful if you let your companion know what you would like done and how often. Be sure to let your companion know about specific things such as:
• Laundry preferences including temperature of water, folding, and organization
• Where cleaning products are kept
• If there are any allergies or sensitivities in play that could become a problem if the companion brought any supplies with her
• If there are any responsibilities that you would rather take care of on your own
Keeping up with housework can be a source of stress for seniors, but a home companion can take a lot of this pressure off your shoulders.
For all of your home care agency needs in Mt. Laurel, NJ and the surrounding areas call and talk to us at Home to Stay Healthcare Solutions (856) 720-0081