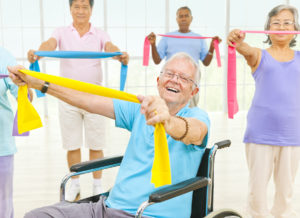 Many elderly loved ones are alright with the idea of exercise, but they'd rather not leave home to do it. Before you actually start an exercise program with your elderly loved one, make sure that you talk with her doctor about whether she's cleared to exercise. Once your loved one is cleared to get moving, try some of these ideas.
Strength Training with Weights
Strength training can help your elderly loved one to improve her range of motion and to strengthen the muscles around her joints. What that can do is to help support her joints, particularly on the more painful days. Your loved one doesn't have to take up bodybuilding, though. Even light weights can give your loved one's muscles enough to work with that she can see some excellent results.
Strength Training with Resistance Bands
Resistance bands are another way that your loved one can improve her strength without lifting weights. These types of exercise tools look like large rubber bands. Your loved one can then stand on them or use them in a variety of configurations to bump up her muscle strength. Resistance bands are available in a wide range of strengths or your loved one can combine several to get the resistance that she wants. These tools can also help your loved one with stretching.
Stretching
Stretching daily helps to loosen up and lubricate your loved one's joints and muscles. It's a good idea to stretch before and during the time that she's getting up for the day and she should also stretch before exercising. Work with your loved one's doctor or physical therapist to come up with the right stretches for her abilities and needs. Resistance bands make excellent stretching tools, but a rolled up towel can work just as well.
Walking
Walking is excellent for your elderly loved one because it's weight-bearing exercise and it can help with her lung and heart health, too. Your loved one also doesn't need any special training or equipment, either. A good pair of shoes and a walking companion are the basics. If your loved one wants to walk at home, there are a variety of treadmills or even walking in place tutorials that can keep her moving.
Let your other family members and your loved one's elder care providers know what types of exercises she likes best so they can help her to stay on track.
For elder care in Southern NJ and the surrounding areas, call and talk to us at Home to Stay Healthcare Solutions (856) 321-1500.