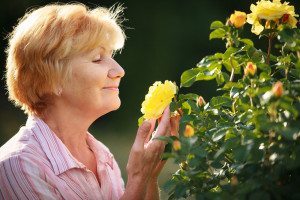 Container gardening is the perfect way for your senior parents and their senior care providers to get outside and enjoy some fresh air. There are a variety of benefits with growing vegetables and fruit, but the problem is many seniors do not have space for a garden in their yard. Container gardens can be grown on a small patio, deck or even in a section of the driveway. The following tips will provide information on how to grow a container garden and the benefits container gardens provide for seniors.
Containers
Whether your parent, you or the in-home care provider select the containers, it is important to choose a container that either has holes in the bottom or can have holes put in it. Containers can be almost anything, from a hanging flower basket to a 5-gallon bucket from the home improvement store, as long as it will hold the soil and allow excess water to escape.
Plants
An ideal way to choose which plants to grow is to have a themed container garden. For example, if salads are your parents favorite, choose plants, such as lettuce, peppers and tomatoes that produce sufficient amounts and are easily grown. A spaghetti garden could include plants that would be used for the sauce, such as tomatoes, peppers, onion and basil. Choose soil that contains a sufficient amount of nutrients for the plants chosen. Elder care providers can assist your parents by reminding them to water the plants, harvesting the vegetables once grown and moving the containers to different locations for more sun if necessary.
Benefits of a Container Garden
Many seniors avoid buying fresh fruits and vegetables at the grocery because the cost is too high. One of the best benefits of growing a container garden is there is virtually no cost for them to have an ample supple of healthy foods. They will save money on their grocery bill allowing extra money for an extra treat they typically would not buy. Other benefits of a container garden for the elderly include:
Safe food-a container garden is assurance that your parent is eating foods that are free from toxic pesticides and contamination.
Reduced greenhouse gas emissions-much of the food in the local grocery store has traveled many miles from where it was grown to get where it is sold. This transportation not only increases the cost of food, but adds to the green house gas emissions that are released into the atmosphere.
Sense of satisfaction-there is nothing more satisfying than eating fresh food that you have grown yourself. Many seniors grew up during times when growing your own food was a necessity. They often miss these types of opportunities as well as how good these foods taste.
Better health-vegetables contain natural enzymes that aid in digestion, an many contain natural antibacterial agents. These types of foods can help ensure your parent is eating foods that are not only healthy but can add in preventing many health problems.
Talk with your parent's home care provider to see if they are interested in helping your parent grow a container garden. If possible, consider enrolling both your parent and the elder care provider in a local class at the library or senior center to learn more information about the best types of container plants to grow in the area as well as tips on how to care for the container garden.
For elder care in Woolwich Township, NJ, and the surrounding areas call and talk to us at Home to Stay Healthcare Solutions (856) 321-1500.