Whether the colder days of winter are upon us or the sunny days of summer are in full bloom, there are year-round activities that can help keep any senior"s days fun-filled. You and the kids can provide hours of outdoor or indoor activities to enjoyably pass the time. At the same time you are enjoying laughter and quality time with your loved ones, you will also be stimulating your parent or grandparent mentally, physically, and socially. All of these aspects are important in maintaining good health and keeping your elderly family member motivated.
The simplest and easiest activity is taking a walk; if your elderly loved one is using a walker, you can take things at a slow pace. Just taking a walk to the back yard and sitting on a bench conversing about the weather or the week"s happenings can be an enjoyable activity. Even in the winter months, it is good to get outside for some fresh air for a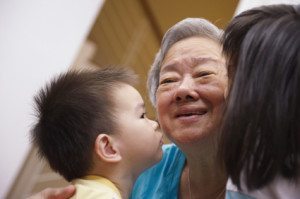 few minutes each day–aside from inclement weather and dangerously low temperatures, the crisp air is a great refresher.
Going to a local park opens up an array of fun activities. You can fish, have a picnic, or the kids can make a scavenger hunt list and scour the park for the needed items. Taking a camera along will allow for two activities in one–you can take great outdoor pictures of birds, water, colors of changing leaves, or anything of the person"s choosing. Once you are home and have the pictures loaded on a computer and printed, you can enjoy conversation about the day"s photos and can create a scrapbook.
If there is a sporting activity that your parent or grandparent enjoys doing, you can take a day outing to enjoy this. It could be playing horseshoes at the local park or bowling at a bowling alley. If they are unable to participate in a sporting activity, there is no better way to spend an afternoon than taking them to cheer on their favorite baseball, football, basketball, or hockey team.
Board games and trivia games are a fun pastime and a great way to keep a senior's mind sharp. At the same time they are having fun moments with the family; the games will keep the mind stimulated and give them social interaction.
Seniors love to reminisce about the "good old days." I couldn"t think of a more valuable way to spend a rainy or snowy afternoon than looking through old photo albums. They will love telling stories–turning the pages of the photo album will be like turning the pages back in time for them. And what a great way for the kids to hear family stories that can stay with them for years to come.
There are so many activities that can be shared with your loved ones. The most important thing to remember is that they are having a good time, feeling loved, and keeping their mind stimulated.
For all of your elder care needs in Southern NJ and the surrounding areas call and talk to us at Home to Stay Healthcare Solutions (856) 321-1500.