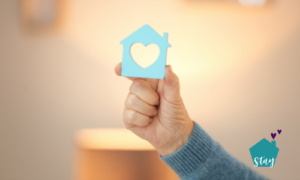 It may come as a surprise to many people that 9 out of 10 seniors say that they would prefer to stay in their own home for as long as possible as they age. Clearly, home care is the first choice for the elderly who wish to age in place. However, many home care myths continue to hold families back from choosing this high quality care and support for their loved ones.
The Top Five Home Care Myths
Myth #1: Home Care Means Loss of Independence for a Senior
One of the biggest home care myths is that it results in the elderly losing their independence. In reality, the opposite of this holds true. Dedicated home care providers work with a goal to preserve the senior's independence and make sure they are safe and comfortable at home.
Trained and experienced caregivers from a reputable home care service such as Home to Stay are highly empathetic and sensitive to the needs of the elderly. Your loved one will only gain greater confidence to manage their daily tasks and feel independent and cheerful with this service.   
Myth # 2: Home Care is Exorbitant Compared to Other Alternatives 
A prevalent home care myth is that home care services are more expensive compared to an assisted living facility or even a private nursing facility. In reality, the average cost of in-home care is quite similar to the monthly median costs at an assisted living facility. 
When compared to the monthly median costs of a private nursing room at a long-term care nursing facility, the cost of home care services is almost half! These are the figures available from the 2019 Genworth National Cost of Care Survey. Clearly, the cost of in-home elderly care is not only the preferred choice of many seniors, it is also highly cost-competitive. The costs could be even more affordable with insurance and Medicaid.         
Myth # 3: The Quality of Care is Inferior with Home Care 
While it's critical to choose a trusted and reliable home care service provider such as Home To Stay Senior Care (HTS), the quality of home care is widely recognized to be as effective and professional as you may expect from a leading nursing facility or hospital. Home care providers such as Home to Stay have a team of trained and licensed professionals who can deliver excellent care in a less harried and more personalized home environment. 
However, not all home care companies are the same when it comes to quality and commitment. Therefore, you should make a well-considered decision for your loved one and choose a provider of the competency and caliber of Home To Stay.  
Myth # 4: Home Care is Only Appropriate for the Severely Ill Patients
This is one of the serious home care myths that must be debunked. While resourceful home care companies like Home To Stay are in a position to provide professional services to people with an advancing level of illness, they are equally equipped to provide care for your loved one who is experiencing an early onset of Alzheimer's or a mild illness, disability, or simply needs assistance due to aging. 
Myth # 5: Home Caregivers Lack Commitment and Professionalism
As long as you have selected the right in-home care service provider, you can be assured that your loved one is going to be in safe hands. A leading home care company and their staff are deeply driven by the idea of serving and caring for those in need, and that's their primary reason to be in this business. They will go the extra mile and do everything within their power to make your loved one feel healthy, happy, and independent. 
Are you ready to hire a home care agency?
Be sure to gather as much information as possible about the home care agency before deciding if it is the right fit for your family and loved one. It is very important to not deny your loved one the best opportunity for personalized care based on these home care myths. Call Home to Stay Senior Care Solutions, 856-321-1500 or 732-820-9611 to see how we can help keep your aging loved one stay in the comfort of their own home or keep their independence in a facility.