Caregivers in Turnersville NJ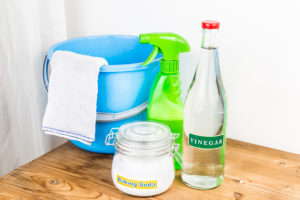 Being a family caregiver means that you have taken on a long list of responsibilities and tasks designed to help your elderly parent live the highest quality of life possible as they age in place. Especially if you are in the sandwich generation, caring for your children and your parent, you might feel as though there is a never-ending list of things for you to do for your parent, your children, your home, your partner, and your career. Finding ways to streamline and simplify the tasks that you have to do on a regular basis while still getting the high quality results that you desire can help you to get more done, reduce stress, and have more time and energy to devote to the other things in your life, including yourself.
One of the most powerful multitaskers in your parent's home is also one of the simplest. A box of baking soda costs only a few cents, but it can be used in a wide array of applications throughout the home, helping you to keep your parent's home cleaner and also achieve personal care goals for them as well.
Some of the top household uses for baking soda that can help your care efforts include:
• Comfort your parent's skin. Skin irritation can be extremely dangerous for an elderly adult. Seniors already have skin that is thinner, more delicate, and more vulnerable than younger people. Something as simple as scratching at a dry patch or getting a small cut can put them at risk for an infection or other serious consequences. Issues such as incontinence, sweating, and other problems can lead to serious irritation, breaking down, and other problems. Sprinkle some baking soda in your parent's bath to soften the water, neutralize acid that is on their skin, and gently exfoliate.
• Clean drains. If your parent's drains get clogged it could put their plumbing at risk and introduce bacteria, mold, and mildew into their environment. Using strong chemicals, however, can put them at risk of burns, poisoning, severe headaches, and other serious problems. Instead, pack baking soda into the drain and pour vinegar over it. When the bubbling reaction slows, pour boiling water down the drain. Repeat the process until the clog is gone.
• Deodorize the washing machine. Over time, the washing machine can build up detergent and softener residue, skin cells, mildew, mineral deposits, and other contaminants, creating a bad smell. This smell can transfer to your parent's clothing and cause their home to smell unpleasant. Remove the smell by running a wash cycle without any clothing. During the agitation stage, add in one cup of baking soda and one quarter cup of white vinegar. Do this twice, then run a cycle without the baking soda and vinegar before returning to washing clothing.
• Clean the microwave and refrigerator. Microwaves and refrigerators are prone to spills and splatters that can grow mold, mildew, and bacteria. Cleaning these appliances with chemicals, however, can cause the chemical fragrances to seep into food. Instead, use baking soda and lemon juice to clean the interior of these appliances for fresh, clean surfaces without the chemical contamination.
For caregivers in Turnersville, NJ and the surrounding areas, call and talk to us at Home to Stay Healthcare Solutions (856) 321-1500.