Caregivers in Turnersville NJ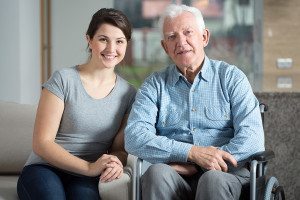 As a family caregiver for your elderly parent, you never want to think about her facing a medical condition that will dramatically impact her health or quality of life. If you are like many caregivers, the condition that is at the top of this list is Alzheimer's disease. Many adult children who step into the role of caring for their aging parents constantly worry about their loved one getting diagnosed with this progressive disease. They worry about what such a disease would mean for their loved one and how they would react to caring for their parent through the progression.
If your parent has recently received this diagnosis, it is vital that you put this concern aside and prepare yourself for the journey. Allowing the fear to continue to control you through your journey can diminish the quality of the care that you give her and her experience with the disease. Instead, commit yourself to confronting the disease with courage and confidence, ready to manage it and give your parent the quality of life that she needs and deserves.
Use these tips to not allow your fear of Alzheimer's disease to impact your caregiver efforts:
• Use the "A" word. Sometimes it can feel uncomfortable actually saying that your elderly loved one has Alzheimer's disease. You may feel strange using such a stark term, or might feel like if you do not use the term then you are not making the situation "real". This, however, will only make you and everyone around you more uncomfortable. Alzheimer's disease is not something to be ashamed of, and saying that a person has it is not an insult. Use the actual name for the disease whenever it is appropriate so everyone is at ease and knows that you are realistic and committed to proper treatment and management.
• Separate the disease from your parent. Your parent has Alzheimer's disease, she is not Alzheimer's disease. This means that you do not need to think about the condition as being something that has taken your parent from you. Rather, it is a condition that she has and that you can manage together.
• Get educated. The more that you know about every challenge that you face in your caregiver journey with your elderly parent, the more confident you will feel. It is easy to be fearful or wary of things that you are unsure about. Dedicate yourself to finding out as much as you can about Alzheimer's disease and what you can do about it so that you can feel less confused and out of touch.
• Find support. Even though there are millions of people living with the disease, a diagnosis with Alzheimer's disease can feel isolating. You may feel like you are the only person who understands what you are going through, or that no one else could possibly relate. Joining a caregiver support group enables you to connect with others who do understand. These people can dispel your fears and give you advice to help you more confidently confront this experience with your parent.
Source
http://www.helpguide.org/articles/caregiving/support-for-alzheimers-and-dementia-caregivers.htm
https://www.caregiver.org/alzheimers-disease-caregiving
http://www.alz.org/i-have-alz/helping-friends-and-family.asp
For caregivers in Turnersville, NJ, and the surrounding areas call and talk to us at Home to Stay Healthcare Solutions (856) 321-1500.