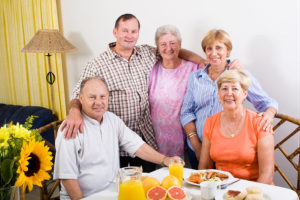 At least once in your time as a caregiver you've had someone ask you, "How can I help?" These ideas are for those moments when you just don't know what they could do for you.
Taking Over Research
As a caregiver, you spend more time than you think researching all sorts of different things. What if you could hand that research over to someone else? They could do the sifting and the sorting, giving you the information that really matters to save you time.
Filling out Paperwork
At any given time, you're likely to have a lot of bits and pieces of paperwork that need to be filled out for one reason or another. Some friends or family members might be really good at handling that kind of tedious task for you. Bonus points if they have really great handwriting, too.
Bringing by Meals
Your other family members might not be able to help in all the ways that they really want to help, but they may be able to make a few extra servings of a meal or two. Bringing some meals to your senior is a great way for them to help you and her and still let her know that they care.
Taking Your Senior to Appointments
If your aging adult doesn't drive any longer, transportation may be an issue for her. Just because she doesn't drive, that doesn't mean she needs or wants to stay at home all the time. Knowing that she's with a family member can help you to feel more secure about her leaving the house without you.
Spending Time with Your Senior
It's not all about doing something tangible, though. Loneliness is a tremendous problem for aging adults and having someone to sit and talk with is a real blessing. Even if friends and family aren't able to do much else, they can come spend time with your aging adult now and again.
Running Small Errands
There's always that one small errand, like picking up one item at the grocery store or that last-minute prescription, that gets away from you. Friends and family can help, though. Let them know what you need, even if it's just a tiny errand that doesn't take much time on their part. How much time does that save you to not have to go back out?
Often caregivers look at everything that they have to do and find reasons that they need to handle those tasks themselves. Try instead to look at your task list and determine how you can delegate all or part of that task to someone else to free up your time where it really needs to go.
For caregivers in Southern NJ and the surrounding areas, call and talk to us at Home to Stay Healthcare Solutions (856) 321-1500.