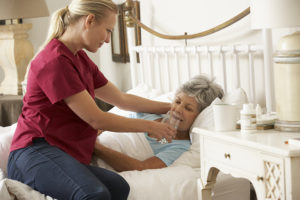 For some people who find themselves at the beginning of a caregiver journey with their elderly parent, it is obvious what their individual needs are and how much care they need. For others, however, this can be less clear and it can be difficult to really determine how much care is right for them. Having a care provider in the home with them can be a fantastic way to ensure that they get all of the care, support, encouragement, and assistance that they need while also giving you peace of mind knowing that even when you are taking the time to handle other obligations and needs in your life, they will be safe, comfortable, and happy.
This, however, leaves with the question of how much care your elderly parent truly needs. Some things to keep in mind when considering this include:
• Physical challenges. Does your parent struggle with mobility, balance, or health problems that compromise their ability to get around and handle their daily tasks and personal care? If so, this might require additional care to help them feel comfortable and stay safe and healthy in their home.
• Mental health needs. Does your parent have a strong social circle, relationships with their neighbors, and plenty of family that comes to visit them frequently? If not, they might struggle with isolation, depression, anxiety, and other complications. The dedicated companionship of a care provider can be invaluable in this situation, providing support, encouragement, and a mental and emotional boost.
• Your proximity. If you are close enough to your parent to be with them frequently, your parent might not need extensive care from a care provider. If you live at a distance or have a schedule that is extremely busy and are not able to be with your parent as often as they need, they likely need more care to ensure their needs are met.
• Nighttime challenges. No matter how much you want to care for your parent and give them everything they need, you will have limitations. One of these is your need to sleep. If your elderly loved one has difficulties that might put them at risk at night, such as wandering tendencies or increased fall risk, having an awake and alert care provider in the home with them will ensure that they stay safe and healthy while you are able to get the rest that you need to stay healthy and functional.
Starting home care for your aging parent can be an exceptional way to be an involved and dedicated family caregiver while also ensuring that any care gaps that exist are managed properly and efficiently so that your loved one can get the care, support, encouragement, and assistance that they need. This will help them to stay safe, healthy, comfortable, and happy while also pursuing activity and independence throughout their later years. This can be particularly beneficial during challenging times, such as if you are a distance caregiver and not able to be with your parent as often as you would want to be, or if your senior has been struggling with a particularly difficult health challenge that requires additional care and support. Knowing that your loved one has access to the highly personalized care and services offered by such a care provider will give you greater peace of mind and confidence knowing that they will have everything that they need both when you are able to be with them and when you are not.
For senior care in Southern NJ and the surrounding areas, call and talk to us at Home to Stay Healthcare Solutions (856) 321-1500.