Being a caregiver isn't easy, but with the use of some helpful gadgets you can make your life as a care provider for an aging loved one a bit simpler. Some of these caregiver splurges are purely for convenience and comfort, while others can actually make it easier for you to provide safe, effective care for your loved one. Some of these helpful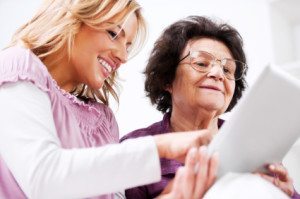 tools include:
Single Cup Coffee Maker: coffee is the lifeblood for many family caregivers of aging adults. Making an entire pot of coffee for only a cup or two can be frustrating and wasteful, however. Not only does making a large amount of coffee take a long time, but it gets cold before you have a chance to enjoy it. Single cup coffee makers let you indulge in a wide variety of flavors and ensure you have a hot cup of coffee whenever you want one.
Virtual Family Dinner: this is a home monitoring system that uses cameras and screens as well as motion detectors to follow the movements of a senior and her family. When your aging loved one sits down for a meal the system will alert you, allowing you to go into your kitchen or dining room and sit down to "eat with" her. This lets you not only interact with your loved one regularly, but also closely monitor her eating habits. This is a great tool for long-distance caregivers who want the opportunity to be more connected to their loved ones beyond just the occasional phone call.
Spa Tub: many of the walk-in tubs designed for seniors are also designed with therapeutic jets. These tubs are fantastic for your senior loved one, but they are also wonderful for caregivers who need some much-deserved relaxation and pampering at the end of the day.
Tablet: if you haven't been able to justify purchasing the newest tablet computer, just think of it as a tool for your caregiving efforts. A tablet will allow you to stay organized and scheduled in one place, and prevent you from having to go to a desktop computer every time you need to check your email or look up something online. Purchasing a tablet also means you can take advantage of the thousands of apps available for these devices—a lifesaver if you have a bored toddler or a cranky senior sitting in a waiting room or waiting around in traffic.
For all of your caregiver needs in Mt. Laurel, NJ and the surrounding areas call and talk to us at Home to Stay Healthcare Solutions (856) 321-1500.