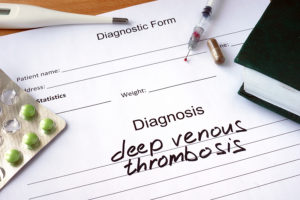 Traveling can be one of the great joys of life, but if your aging parent is at increased risk of suffering a serious blood clot known as deep vein thrombosis, this can be a dangerous experience. Traveling often involves long periods of sitting, which dramatically increases the risk that your parent will develop a blood clot in their leg that might travel through their body and potentially lead to devastating consequences. As their family caregiver, it is important for you to understand what you can do to prepare your parent for travel so that they can reduce the risk that they will develop a blood clot, and keep their travels fun, engaging, and beneficial.
Use these tips to help your parent prevent deep vein thrombosis when traveling:
• Talk to their doctor. Before your parent embarks on their journey, talk to their doctor. Discuss their risk and get recommendations for what your loved one should do before, during, and after the trip to help reduce the chances that they will develop a blood clot. They can also discuss medications and other treatments that might help to further protect them.
• Choose their clothing properly. What your loved one wears can make a tremendous difference in the risk of developing deep vein thrombosis. Choose clothing that fits loosely, particularly around their belly and thighs and encourage your parent to wear compression stocks that apply gentle pressure to help the blood flow properly through the legs. Make sure that you select the stockings that fit your parent properly to make sure that they are beneficial rather than increasing the risk of deep vein thrombosis.
• Stay hydrated. Getting enough fluids helps to prevent the blood from thickening, which makes it harder for it to flow effectively. Encourage your parent to drink plenty of water throughout the journey. Keep in mind that traveling often distracts people and keeps them from drinking enough, so they might need frequent reminders and breaks to keep them properly hydrated.
• Get active as much as possible. The longer your loved one sits during a journey, the higher the risk that they will develop a blood clot. Get them up and active as frequently during the trip as possible. If driving, schedule frequent stops so that your parent can get out and walk around. If traveling by plane and not able to walk around comfortably, encourage them to perform exercises such as lifting their legs as frequently as possible.
If your elderly loved one has recently suffered deep vein thrombosis or is at increased risk of such a medical condition due to their other health complications and issues, now may be the ideal time for you to consider starting elder care for them. An elderly home care services provider can be with your aging loved one on a fully customizable schedule that is right not just for your parent's individual needs, challenges, and limitations, but also the type of care that you give them and the instructions that their doctor has provided. This means that your loved one will get the support, care, and assistance that they need to handle these risks, heal and recover effectively, and work toward prevention of another serious incident in the future. If your senior will be traveling in the near future, this elder care provider can help your senior understand the risks that they are facing and prepare them to take the proper steps to reduce their risk of dealing with a blood clot during this time.
https://www.stoptheclot.org/the-who-what-when-and-why-of-blood-clot-awareness-month.htm
https://www.cdc.gov/features/deep-vein-thrombosis/
https://www.clotconnect.org/about-clot-connect/dvt-awareness-month
https://www.clotcare.com/deepveinthrombosisawareness.aspx
https://www.nhs.uk/Livewell/travelhealth/Pages/PreventingDVT.aspx
For elder care in Southern NJ and the surrounding areas, call and talk to us at Home to Stay Healthcare Solutions (856) 321-1500.