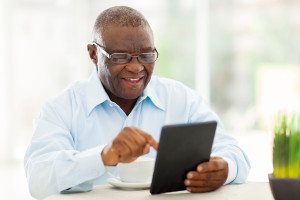 Even elders who are not suffering from Alzheimer's or dementia may eventually develop memory issues. Though memory issues are often an unavoidable part of growing old, flexing those "memory muscles" can potentially limit or even reverse the damage. Staying mentally active is one of the best ways to resist memory loss. In the old days, one might do crossword puzzles or practice a musical instrument. Today, there are many memory-based tablet applications that are simple, fun, and easy to use.
1. Lumosity. Lumosity is a paid service available on iOS and Android. It features a selection of games that are dedicated towards reducing your "brain age." These games vary by the day and include standard memory games, pattern matching, and reflex tests. The platform will track your family member's progress, so that you know whether they are doing better or worse with time. This can be an invaluable tool for those who want to make sure that their loved ones are thriving.
2. Brain Fitness Pro. Brain Fitness Pro is a set of training exercises that are designed to improve upon both memory and focus. Brain Fitness Pro claims to improve both cognitive skills and attention in those who use it regularly, and it's designed to help those with ADHD, ADD, and OCD, in addition to those who simply have memory problems. It's available on iOS for a low one-time cost.
3. Eidetic. Eidetic is a little different from the other games. It creates ways for individuals to remember specific knowledge. For instance, if your elder family member struggles to remember phone numbers. By using spaced repetition, Eidetic makes it easier for the person using it to commit knowledge to their permanent, long-term memory, rather than keeping it in their temporary, short-term memory.
4. Brain Metrix. On Brain Metrix, users can choose to play everything from a simple memory game to creativity and reflex tests. Similar to Lumosity, users can also track their progress and improve upon both their retention and their concentration. Brain Metrix has a huge repository of different types of games, and it can be accessed through a browser, making it available on any tablet that has Internet access.
Some seniors may be resistant of the idea of a tablet. For these elders, it may be better to consult with their senior care or avoid pressing the issue. Instead, consider some standard memory games, such as board games and crossword puzzles. Elders can play these games under direction of their in-home care professional to keep their mental faculties as acute as possible.
For all of your elderly care needs in Cherry Hill, NJ and the surrounding areas call and talk to us at Home to Stay Healthcare Solutions (856) 321-1500.